The e-paper display gets more colors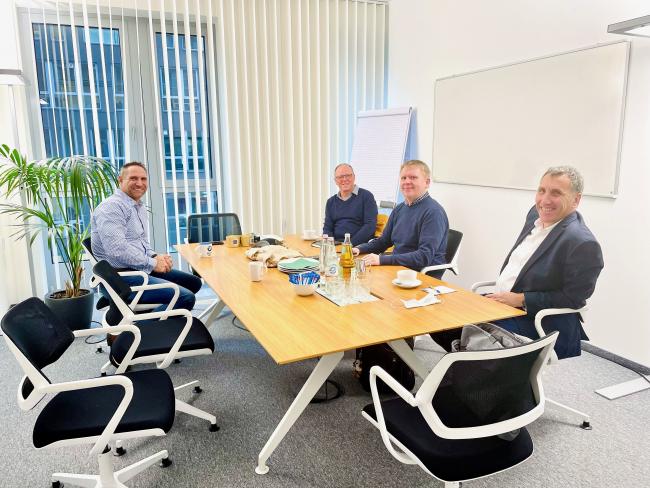 TFT displays, camera technology and e-paper displays: This is what Holitech mainly earns money from. In addition to China, production also takes place in India. Many European customers are supplied from here. A multicolored EPD is planned for 2022.
Thomas de Laar has been Managing Director of the European Holitech branch in Düsseldorf for a good two years. I had already visited Holitech at the end of 2020 and I spoke to de Laar about Holitech's plans in Europe, among other things. Because the display expert from China has high hopes for the European market. The plan is still up to date. But the corona pandemic has had an impact on business for two years. Specifically, it is about the microchips for touch control on the displays.
In addition, there is often a second phenomenon: A touch display requires a driver IC and a touch IC. In order to adapt these ICs to the respective functions within a display, they have to be programmed. This is time-consuming and ties up capacities.
After all, says de Laar, the business with TFTs in Europe accounts for around 50 percent. Followed by e-paper displays with 30 percent and finally camera technology with around 10 percent.
European customers can be supplied from India
But Holitech does not only manufacture in China. The Chinese operate four factories for camera modules, TFT displays and fingerprint modules at the Noida site near the Indian capital New Delhi, which can be used for verification, among other things. The Indians buy the necessary material from the Chinese mother and then manufacture it on site.
It is mainly the European customers who buy directly from the Indian factories, because there are often failures in the Chinese factories. De Laar names, among other things, power cuts that paralyze production for a long time. The Indian market is more reliable here.
The TFT displays built at the Indian Holitech site are built into smartphones and the slightly cheaper feature phones, for example. There are three different versions of the fingerprint modules: for installation on the back of the device, on the side or as an optical module.
A look at the automotive and commercial vehicle market
De Laar explains that Holitech applied to an automobile manufacturer via a tender. It was about a touch switch with an integrated display. In addition, the switch should offer protection against moisture and was completely covered with a cover glass. Holitech had achieved third place with the developed prototype. "Although it was only enough for a third place, we were able to learn a lot during the development of the touch switch. These findings are now also being incorporated into other projects," says de Laar.
Camera modules are also increasingly being installed in the mobility industry. These are not only used in cars, but also in trucks and agricultural machinery. For example, a modern agricultural machine is equipped with 20 cameras. Not surprising given the sizes.
The business with the e-paper displays
On the e-paper displays (EPD) market, there are only three manufacturers worldwide who are allowed to market e-ink technology. China e-paper display factory covers an area of ​​35,000 square meters. "Here we achieve a monthly production capacity of five million pieces of e-paper products including module, front light, CTP, full lamination and circuit board as well as other services," says de Laar.
The e-paper displays manufactured by Holitech have a full refresh rate of two to three seconds. Holitech currently offers the EPDs in black and white and tri-color in black-white-red and black-white-yellow. There is one limiting factor compared to TFT displays: the temperature range. The background is the physical properties of the microcapsules, which are currently only designed for operating temperatures between 0 and 50 °C and -20 and 30 °C (especially for low-temperature products).
The e-paper displays (EPD) are given color
De Laar reports that the yellow EPDs are more expensive as their demand has increased. On the other hand, the EPDs with red are cheaper. The company has announced multicolored EPDs for early 2022. It should be possible to technically display up to eight colors. In addition to the limiting temperature range, direct exposure to UV light can dry out the color capsules and lead to irreparable damage. This can be remedied by special foils that block UV light.
De Laar sees a large and still growing market for ESL (Electronic Shelf Labels) for labeling prices in supermarkets. "Here we are talking about a volume of 200 million pieces per year. For the Russian market alone, we plan to sell 16 million ESLs this year." In addition to ESL, smart home and smart building as well as metering displays are predestined for e-paper displays. Among other things, they can be found in the heating valves from AVM.
The market for the ESL remains exciting. Above all, a full-color e-paper display can provide another boost in this segment.
THE MULTICOLOR E-PAPER
Each microcapsule of EPD contains white particles with negative charge, magenta particles with negative charge, yellow and cyan particles with positive charge floating in a transparent liquid. If you apply different voltages, the different colors migrate to the upper layer and become visible to the viewer. At the same time, the different color particles can represent different colors after mixing, thus depicting a complete color gamut with eight primary colors.
https://www.elektronikpraxis.vogel.de/das-e-paper-display-beckt-mehr-farben-a-1096960/
Source: Vogel Verlag - Elektronikpraxis | Updated on November 12th, 2020 |…
Read more
The close interaction between customer, supplier and distributor already in the…
Read more