Color electronic ePaper from Holitech
Holitech's latest color ePaper is based on the Advanced Color ePaper (ACeP). This is a high-quality, reflective full-color display. Here, the electronic ink can produce full color at each pixel without the need for a color filter. All the color pigments are in each individual picture element – that is, in each pixel – unlike a CFA (Color Filter Array), where the colors of the individual pixels are next to each other. This eliminates light attenuation, which can be very large with CFA. ACeP technology retains the advantages of the normal ePaper such as extremely low power consumption and paper-like readability in all lighting conditions and viewing angles.
Inside the display is a layer of transparent electrophoretic liquid. Contained within are microcapsules or microcups. Each microcup contains white particles with negative charge, yellow particles with negative charge, magenta particles with positive charge, and cyan particles with positive charge. When different voltages are applied, the different colors migrate to the top layer and become visible to the observer. At the same time, after mixing, the different particles can display different colors to show a full color gamut with the primary colors cyan, magenta, and yellow plus white, and the secondary colors red, green, and blue plus black. These in turn can produce a spectrum of 32K colors by mixing. The displays are compatible with commercially available TFT backplanes.
Holitech's E073A01 model is based on the ACeP technology described above and is a reflective electrophoretic display module on an active matrix TFT substrate. The diagonal of the active area is 7.3 inches and has a resolution of 800 x 480 pixels. The panel's circuitry includes an integrated gate and source driver, timing controller, oscillator, DC-DC boost circuitry, memory for the frame buffer and lookup tables, and additional circuitry to control VCOM and BORDER settings. It features high contrast, high reflectance, and ultra-wide viewing angle with very low power consumption. The display operates in pure reflective mode. The operating temperature range currently extends from +15°C to +35°C. Other features include a hard-coated, anti-reflective display surface and an ultra low current deep sleep mode. A serial peripheral interface is available. Integrated, i.e. on-chip, is an oscillator, booster and regulator control for generating VCOM, gate and source driver voltages. An I2C signal master interface is used to read the external temperature sensor. The typical application area of the display is IoT.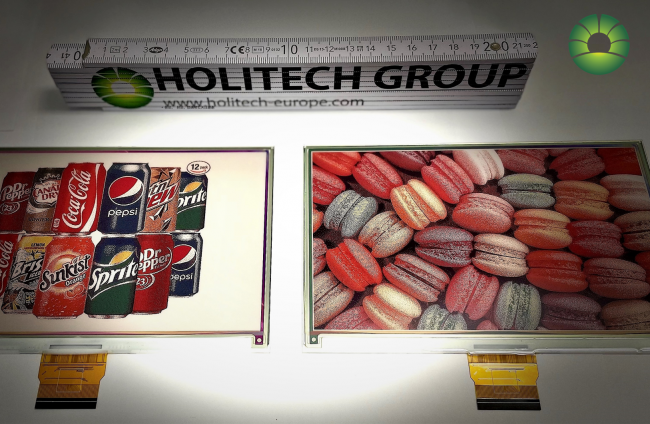 Products