Cameras from Holitech for special use in vehicles
The use of cameras in vehicles is nowadays a matter of course and the number is constantly increasing. As a specialist for HMI applications, Holitech produces a wide range of specific cameras for the automotive sector. These include front cameras for recording the traffic situation in front of the vehicle as part of the safety package. Panoramic view cameras capture the area to the left and right of the vehicle, and cameras at the rear ensure good visibility to the rear. The cameras are available in different housings and with different resolutions of 0.3M, 1M and 2M.
In development at Holitech is a video camera with a resolution of 2M for streaming applications at the rear of the car. Also in the pipeline is an 8M resolution camera for use in Advanced Driver Assistance Systems (ADAS), 2M resolution cameras to replace the rearview mirror, and a 1M resolution camera for use in combination with a DVR (Digital Video Recorder) in the vehicle.
Holitech also produces complete camera systems consisting of a control unit and four wide-angle cameras, thus enabling 360° all-round vision. The cameras are available in VGA and HD resolution. Other special cameras for vehicles are designed as a rear view camera, an automatic reverse lane camera and a fisheye panorama camera. Then there is also a camera with LVDS interface and a camera for downward visibility.
Holitech's rear view camera uses the ASX340 sensor from ON Semiconductors. This sensor has been approved for use in the automotive sector. The lens guarantees high resolution with low distortion and a wide temperature range from -40°C to +85°C. The camera with IP69 protection class has a size of 29 x 28.85 mm. In another model of a rear view camera, the BF3116CL sensor is installed with the HK-8151 lens and a high-resolution fisheye.
In the boutique bus truck AHD Surround View camera system, the Sony HD Starlight night vision chip is used as the housing, and a high-resolution 6G wide-angle is used as the lens. With the four cameras for front, left, right and rear, parking with panoramic view and blind spot monitoring is possible.
Cameras are used instead of the normal rearview mirrors. This allows the scene at the side and rear of the vehicle to be shown to the driver via displays. Holitech's cameras have high resolution and low distortion in a wide temperature range from -45°C to +85°C.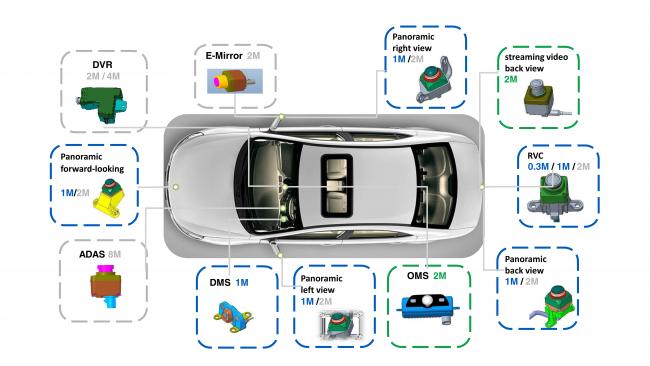 Products