Active Matrix ePaper specially for digital shelf labels
The Active Matrix ePaper display (AMEPD) HINK-E102A04 was specially developed for use as digital shelf labels. The 10.2 inch display has a resolution of 960 × 640 pixels. It is available in the 1-bit color variants B/W, B/W/R, B/W/Y and in a B/W low-temperature version especially for refrigerators and freezers. In addition to a high contrast, ultra-wide viewing angle and very low power consumption, the displays are characterized by a hard-coated anti-glare surface to protect against mechanical stress. They can be operated in both portrait and landscape format. Both the internal and a connected external temperature sensor can be read out via an integrated I²C interface. A 10-byte OTP memory is used for module identification in a complete system.
Examples of applications for digital shelf labels are in retail or in supermarkets, in pharmacies, in electronics stores, through to warehouse labeling and room signage.
Analog information and price labels are a high cost factor, error-prone and slow. With the use of digital labels, tracing work can be done quickly and safely centrally, even at different locations at the same time.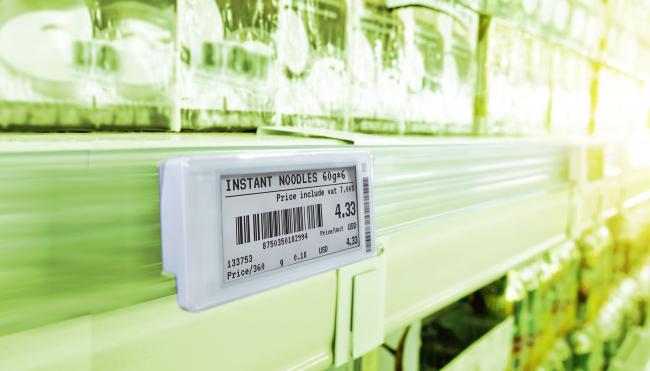 Products